Studio color light is a necessity for creating the atmosphere in any workplace. Some may only regard color lighting as a decoration, but do you know that even such a little gadget can hugely affect the mood and body of studio workers? This article will explain its significance to us by saying:
How does colored studio lighting affect physical condition?
How does color temperature of studio lighting affect mental health?
How to improve the studio vibe?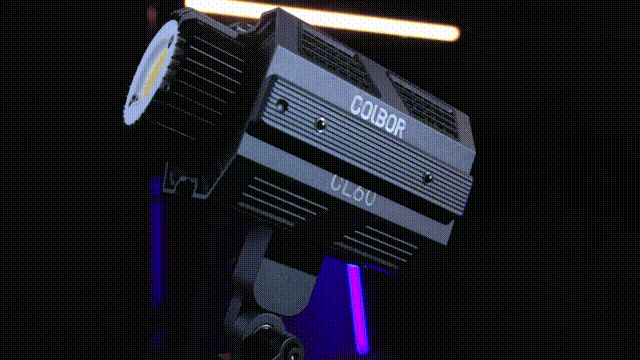 How does colored studio lighting affect physical condition?
Chromotherapy, often known as color therapy, is a technique for treating both physical and mental diseases. And it is still employed in alternative medicine. As a result, colored video light has become commonplace in portrait studios, music studios, and video studios to promote better environments and outcomes.
For example, if you complain of a headache, your doctor may not recommend color therapy. However, you may enjoy the benefits of chromotherapy when you are exposed to his or her office. See! Color is full of power!
Since then, many workplaces have begun to employ various color-changing studio lights in order to improve your work efficiency and physical condition.
| | | |
| --- | --- | --- |
| Color | Effects | Uses for different studios |
| Red | A calming or warning effect for people to work attentively and confidently | Music video recording, music bar, escape room, puzzle room |
| Yellow | A stimulating color to motivate people to take part in vigorous activities | Home, store, office, library, art exhibition, gym room |
| Blue | A feeling of relaxation, safety and stability | Interview recording, broadcasting, dance studio |
| Green | A soothing effect to calm people's tensity and help them create pleasant emotions | Hospital, clinic |
| Purple | A calming effect to calm the mind and spirit, encouraging creativity | Art studio |
| Orange | A warming, active and friendly feeling to increase energy and warmth | Library, high-class restaurant |
| White | A positive effect to boost your alertness and mood | Clinic, vlogging, interview recording, broadcasting, exhibition, store, office, dance studio |
How does color temperature of studio lighting affect mental health?
The term "temperature" describes how warm or cold a hue is. A color's temperature influences the color and hue of everything we see. Therefore, it is vital to understand its effects since it helps us create emotion, depth, and even movement.
The studio light color temperature has an effect on your mood. Like air, it also has a temperature.
The warm lighting, such as 3000K color temperature, is slightly orange, red, or yellow in hue. Warm lights, also as the best color lights for music studio, are connected with relaxation and may help you refresh or recover from a long-day work.
The cool white one might have the opposite effect. It tends to be blue and white. This is the reason why it can be useful in various studios. It can assist you in being alert and concentrated rather than succumbing to the noon slump
How to improve the studio vibe?
Color has a huge subliminal influence on how we feel, work, and act. It is possible to upgrade the studio atmosphere and boost workers' moods through various colors. It is also important for music video lights. Want to know more about it? Keep reading!
Add some lights for the studio
To provide more alternatives, we recommend picking LED with multiple color options. Here are some simple introductions to studio color lights.
Bi-color COB LED
The bi-color LED studio light with remote control system offers great adaptability and simplicity without the inconvenience of changing filters to adjust the temperature. It can shift between the cold and the warm to meet the needs of various scenes. A dimming COB LED can control the color and color temperature by adjusting the dial.
For instance, it will be warm and yellowish if you adjust your gadget to 3200K. Vice versa, it will be blueish and cool if you adjust to 5400K.
RGB LED
The RGB LED has simplified the generation of colored studio lights. And its radius will only increase. These kinds of multi-color studio lights are perfect for enhancing the ambience of a shop, bar or restaurant. Of course, this is also conceivable in residential applications.
For instance, COLBOR PL8R, a portable budget, has 13 lighting modes to create 37 vividly colorful effects. It can be used to brighten up the image or modify the tones for portrait or still photography.
If you are looking for an RGB LED light at higher power output, the COLBOR CL60R can be your pick. It is a 65W light that offers full colors with adjustable hue ratings and saturation. You can create any mood you like with it.
Colored gels for studio lights
Colorful lighting gels are translucent sheets of thin plastic. Workers from the photographic industry, including filmmakers or photographers, will use them to modify image color and shoot issues. Gels as well as correction filters can be used to generate different tones and moods for videos and movies, to simulate either daylight or nightlight, or to adjust color temperature, intensity, and other parameters.
Adjust suitable color temperature for studio lights
An optimum color temperature is a crucial factor in improving the studio atmosphere. To select suitably, you can take the following tips:
Warm white, with a temperature between 2500K and 3200K, is perfect for a comfortable and welcoming environment, such as a reception area or home.
Daylight white, with a temperature between 4900K and 6200K, is used for healthcare spaces or environments, including exhibitions, museums, etc., as it provides a natural feel.
Cool white, with a temperature between 6800K and 7700K, is ideal for retail and commercial areas, or modern bathrooms and kitchens.
You can improve your workplace and mood by using the studio color light. Whether you choose compact lights for on-the-go shooting or a relatively large one for professional studio lighting, you may acquire an excellent one to complement your work. And you can check the article Budget LED lights for video: Top 4 picks at COLBOR to get a quick purchase.